Is beating Coronavirus blues a struggle for you? I'd be surprised if it wasn't. We all are dealing with one thing or another brought on by these strange times.
I would like to share a few thoughts and good ideas I've come across recently as we are all handling a very difficult new normal.
What you CAN Control
When the whole world seems out of control you can decide what is in your power to control. Think about daily activities where you can be in control such as times to get up and go to bed so you have a rough schedule for your day. Decide what you want to eat before you go grocery shopping, so you don't load up on junk. Get out in the fresh air, do some exercise.
Laugh and Learn
Get ideas from friends about what they like on Netflix, perhaps tune into some podcasts or Ted talks. Find something that makes you laugh, late night comedians or cat videos – whatever makes you chuckle.
I strongly suggest listening to or reading Brene Brown who has researched the issue of vulnerability. She concludes that in order to be brave we must be vulnerable and be open with others.
Be in the Moment, Uncertain or Not
At the moment, let yourself be with uncertainty. Be real with your feelings – you can feel anxiety and sadness yet at the same time find sound joy.
Perhaps play with a pet, admire an orchid or reminisce about a wonderful occasion shared with a friend or family member.
If you are isolated in a family group be sure to let everyone share their feelings, hopes and fears. Be factual with your comments.
State of the Union
John Gottman suggests that couples have regular "State of the Union meetings" where the couple can bring up any concerns they may have with each other, or at work or with family and friends.
Here are some guidelines:
Use a soft rather than harsh start up.
Express yourself from your own perspective with I statements.
Avoid criticism. defensiveness, contempt, and stonewalling. Be ready to listen to your partner with full attention.
Are You Alone?
It is especially hard if you need to isolate alone. If you are alone be sure to reach out – phone or Zoom or Skype. Beating coronavirus blues is a team effort!
If you are seeing a therapist check in with him or her and see if you can have a virtual session.
If you know of an elderly person or a young mother in your neighborhood who is living alone see if you can drop some groceries or pick up a prescription.
This difficult time is bringing out the best in many people. You will feel better when you help someone else. Two of my clients said they had given blood and felt good about one small thing they could do.
Whatever you are doing or not doing be gentle with yourself.
It is easy to be self-critical or to compare yourself to others who you believe are managing better than yourself. People describe to me how unsettled they are and how hard it is to concentrate. If working from home, give yourself breaks doing something that brings you pleasure. You will perhaps accomplish less than if you were in the office – it's ok – we can catch up on another day.
Meditation teacher Tara Brach terms this compassion for yourself as radical self-acceptance. Be gentle in accepting what is is a key to beating Coronavirus blues.
Nothing Matters Anymore (Except What Actually Does)
Here are two passages from an essay by Damon Young in the New York Times:
"We just don't know enough of anything right now, and that knowledge gap is a neurosis mill — a milkman delivering fresh angsts and dreads to our doors each day."
"There's so much that doesn't matter; so much I did just two months ago seems ludicrous now. (Brunch every Sunday? Really?) So many silly habits and desires and feuds and consumptions and relationships that aren't just bandwidth-consuming; they're bandwidth-stealing, snatching time and energy away from the people and things that matter."
Coronavirus News
If you like to read the news rather than watch TV you might like to subscribe to the free Covid – 19 portions of the New York Times or Washington Post for up to the minute information.
Yale University is offering free online classes in a wide variety of subjects including one "The science of wellbeing" as a means of beating coronavirus blues.
And here's a couple phrases of inspiration –
Always remember you are stronger than you seem, braver than you know, and smarter than you think!

Christopher Robin to Pooh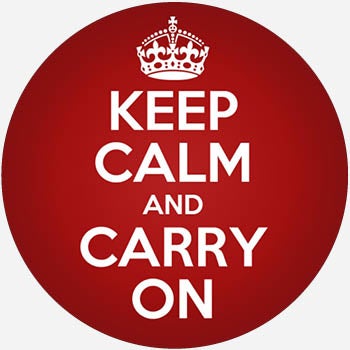 Keep Calm and Carry On

from World War II
Never assume.

Words from a wise counselor
I send good wishes to your family, friends, and colleagues.
Mariliyn
Want to talk? Contact me here.